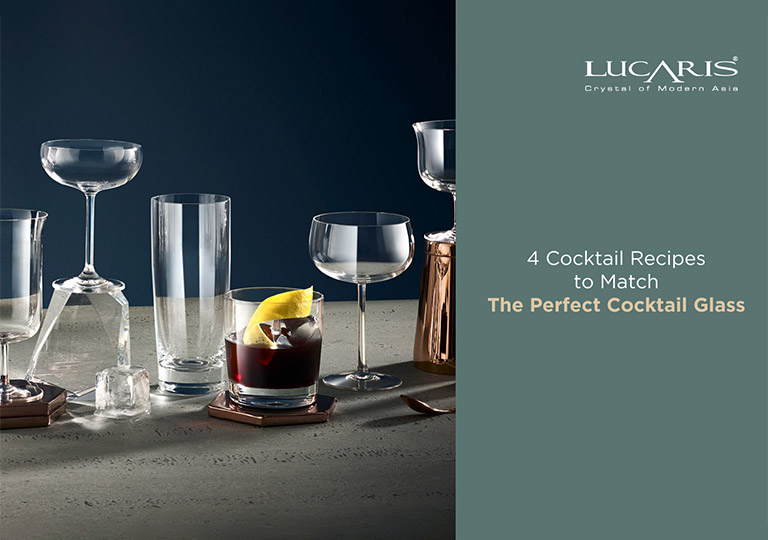 We have discussed at great length the importance of choosing the right wine glass for accentuating both the flavor and appearance of wine. There is nothing quite so satisfying as a good wine being served in beautiful crystal stemware; except maybe for handcrafted cocktails in crystal barware.
Cocktails are all about creatively crafting and combining the right ingredients in the perfect glass. Thus, we introduce LUCARIS' latest addition, the RIMS Collection. Like a model fitting perfectly into the latest fashion down the runway, let us take you on our runway with classic cocktails fitted perfectly into LUCARIS RIMS Collection crystal barware. We've asked some of the region's top mixologists for cocktails that fit perfectly into our collection and they have given us 4 cocktail recipes that taste absolutely divine, look aesthetically. pleasing, and match the different types of RIMS crystal barware. Roll up your sleeves, and let's begin.
CLUSTER | RIMS HIGHBALL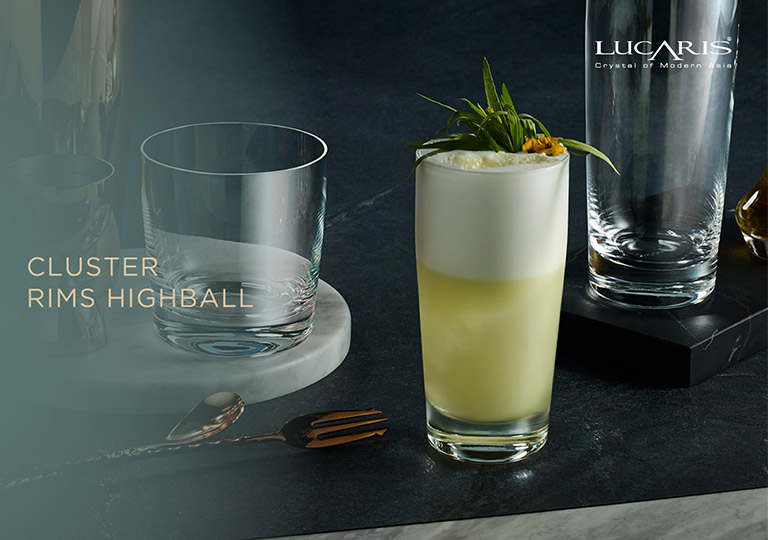 Freshen up with Cluster, a refreshing and juicy concoction with a waft of herbs and blooming winey notes. Think of summer vibes and quenching thirst, think of Cluster. With a creamy and velvety texture, it is best enjoyed through generous sips from the rim of a crystal highball glass.
Ingredients
1. Fresh lemon and green grapes juice
2. 2 parts French snap frost grape vodka
3. 1 part French Royal vermouth blanc
4. Fresh organic free range egg white
5. Crystal Clear Rock Ice
6. Ice cold soda water
7. Tonic bitters
8. Fresh tarragon
Method
1. Add all ingredients (except ice) to shaker, shake hard for 6-12 seconds.
2. Add ice and shake again for 6-12 seconds.
3. Double strain over a couple of fresh ice rocks.
4. Serve in RIMS Highball.
Garnish
1. Add a splash of soda water to each serve and stir gently.
2. Dash a line or two of tonic bitters across the foamy top.
3. Create a nice bouquet with sprigs of fresh tarragon (crush gently for more aroma).
NAYOK CITY | RIMS SAUCER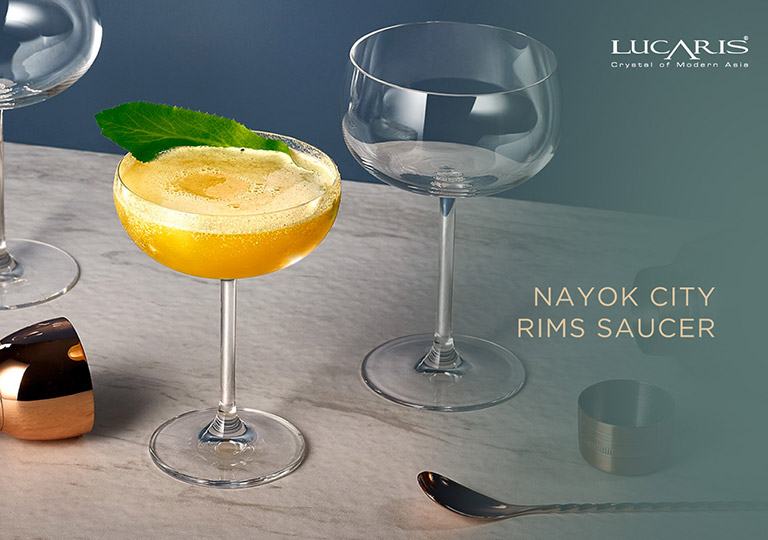 Nayok City is the burst of flavor we all need. Take a break from the chaos and find harmony in the sweet and sour taste with a tinge of heat from Nayok City. Inhale the smoky scent of agave and refreshing scent of herbs.
Ingredients
1. Sea salt
2. Organic mesquite powder & sun-dried Thai bird's eye chili
3. Fresh Tahiti lime
4. Crystal clear rock ice
5. 2 parts juice of fresh sweet yellow mayongchit
6. 2 parts mescal reposado
7. Organic light agave nectar & juice of fresh Tahiti lime to taste
8. Fresh sawtooth coriander
Method
1. In a mortar, pestle equal parts sea salt & mesquite powder, add chili until pulverized.
2. Apply lime juice to the rim of RIMS Saucer by twisting the outer rim on freshly cut lime, or by spraying juice onto it.
3. Keep barware upside down while dusting some of the pulverized mix onto outer rim, then knock off excess.
4. Chill barware with rocks of ice.
Garnish
1. Add all ingredients (except ice) to shaker.
2. Dissolve Nectar.
3. Add ice.
4. Discard ice & melted water from prepared barware.
5. Swirl sawtooth coriander along the inside of it.
6. Shake hard for 6-9 seconds.
7. Complete NAYOK CITY by double straining concoction into prepared barware.
FALL (IN MANHATTAN) | RIMS MARTINI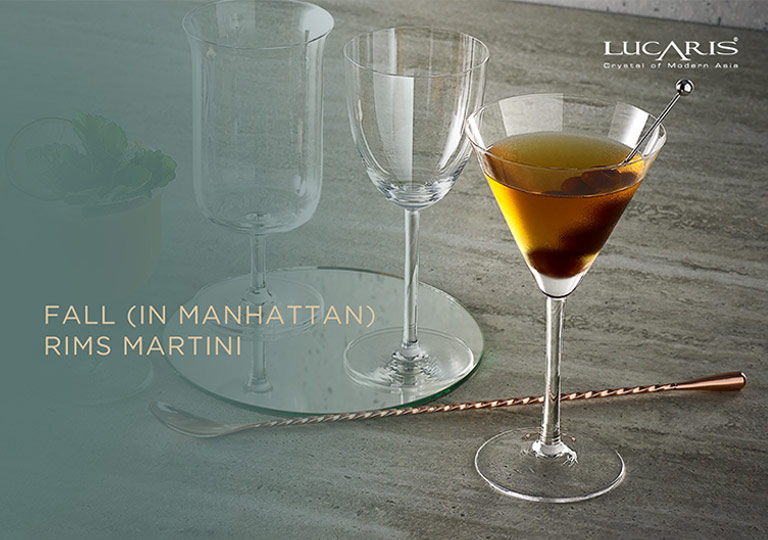 Experience your classic Manhattan with a twist. Manhattan can be hectic and busy but close your eyes as you dive deep into the taste of rich baked apples, cherry preserve, and a good slice of rye. Smell the summer aroma of lemonade? This is when you fall in love with Fall (In Manhattan).
Ingredients
1. 2 parts American rye whiskey
2. 1 part calvados vieux
3. 1/12 part 100% organic grade A amber, rich taste maple syrup
4. 1 mist pure lemon extract
5. Crystal clear rock ice
6. Chilled kirsch-brandied morello cherries
Method
1. In a mixing glass, add maple syrup, calvados and whiskey.
2. Add ice and stir without rattling the ice for 12-24 seconds.
3. Adjust sweetness to your liking with more or less maple syrup.
4. Spray pure lemon extract into a chilled RIMS Martini before straining the cocktail into it.
Garnish
1. Quickly pin 3 cherries, tap to loose excess liquid.
2. Place in ice cold stirred FALL (IN MANHATTAN).
DE NADA A LIMA | ORIENT LOTUS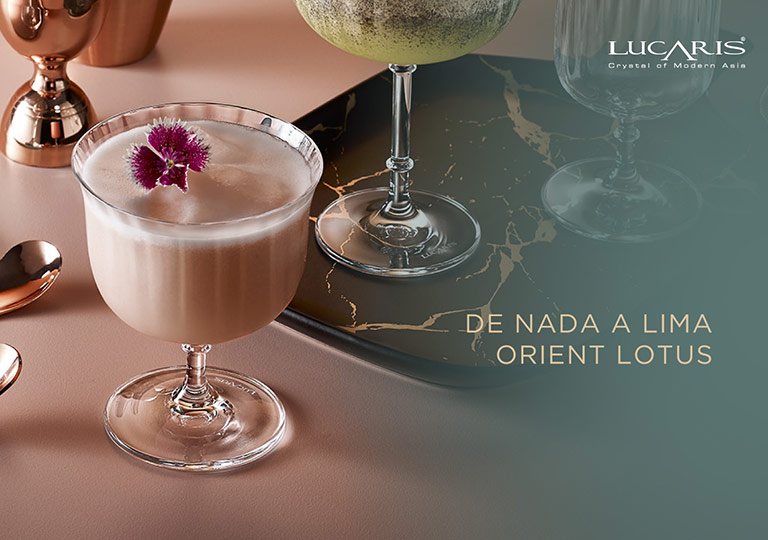 Combining crisp yet velvety sake from Nada prefecture in Japan with added fruity notes, journey to Lima and Peru, the birthplace of pisco, with this Japanese fusion cocktail. Close your eyes and take in the zesty fragrance of lemon and yuzu while also tasting the sweet white peach and cane sugar.
Ingredients
1 part Peruvian pisco
1 part Nada junmai daiginjo sake
1 part purée of white peach (slightly sweetened with cane sugar)
Fresh lemon juice
Fresh organic free range egg white
Crystal clear rock ice
Mist of natural yuzu aroma
Fresh edible dianthus barbatus flower
Method
1. Add all ingredients (except ice) to shaker, shake hard 6-12 seconds.
2. Add ice and shake again for 6-12 seconds.
3. Double strain over a couple of fresh ice rocks.
4. Serve in RIMS Orient Lotus.
Garnish
1. Quickly spray the natural yuzu aroma over the cocktail.
2. Place the flower on the foamy top of DE NADA A LIMA.
Possibilities are endless when it comes to cocktails. Choose LUCARIS RIMS collection for an unrivaled cocktail experience. You can see more of the crystal barware in the RIMS Collection here. Cheers to a refined drinking palate and to the glorious art of mixing!