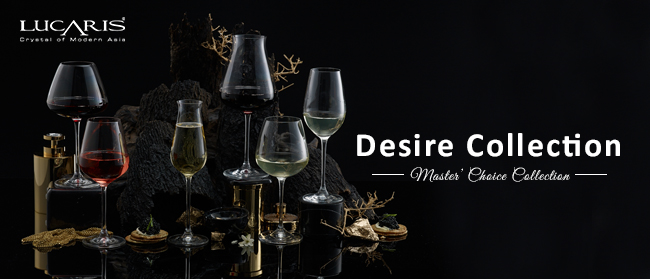 LUCARIS Desire Collection is inspired by Asia's leading glassmaker "LUCARIS" and Asia's passionate wine lovers and services "Hong Kong Sommelier Association" to create an exquisite crystal stemware collection – Desire Collection is designed and developed with passions of wine lovers and glass makers with the signature of wine glass innovation. If you are interested in LUCARIS Desire Collection, click here for more details.
Aerlumer@ Innovation for Wine Lovers
Aerlumer@ is an innovation specially designed for LUCARIS Desire Collection. The 5 curved lines at the bottom of the wine glass are designed to help increase micro-oxidation and soften the wine while swirling. It is intentionally designed as a subtle component to avoid affecting wine color discovery.
Beautiful curl lines at the glass bottom allow your favorite wine to develop a better taste when exposed to air at its best. It's strategically designed to keep wine lovers from being distracted of the wine colors.
---
EP : 3 LUCARIS Desire Collection
EP : 3 LUCARIS Lifestyle Collection
EP : 3 LUCARIS Shanghai Soul Collection
EP : 3 LUCARIS Tokyo Temptation Collection
EP : 3 LUCARIS Bangkok Bliss Collection
---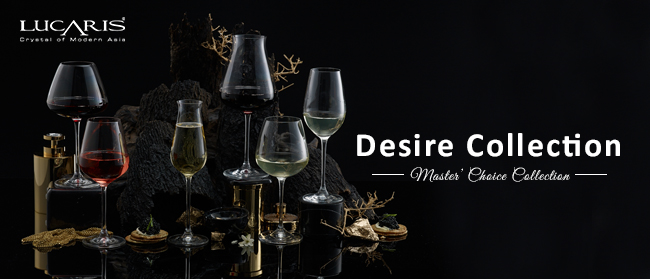 LUCARIS 挚选系列是受亚洲领先玻璃杯制造商LUCARIS和亚洲热情的葡萄酒爱好者及服务商"香港专业品酒师协会"的启发,从而创造了一个精致的水晶高脚杯系列- 挚选系列的设计和发展带有葡萄酒爱好者和酒杯制造商的感情,并带有招牌技术专利。如果你对LUCARIS 挚选系列感兴趣,点击这里了解更多的信息。
葡萄酒爱好者的科技专利Aerlumer®
Aerlumer®是一项专门为LUCARIS挚选系列设计的科技专利。葡萄酒杯底部的5 道螺旋波纹是设计用来在旋转时帮助加速葡萄酒与空气的微氧化并缓和酒精。有意将其设计为一个敏感的组件来避免影响观察葡萄酒颜色。杯底美妙的螺旋波纹能使你最爱的葡萄酒暴露在空气中时产生更好的味道。这是专门设计用来避免葡萄酒爱好者受到葡萄酒颜色的影响而分心。
---
EP : 3 LUCARIS Desire Collection
EP : 3 LUCARIS Lifestyle Collection
EP : 3 LUCARIS Shanghai Soul Collection
EP : 3 LUCARIS Tokyo Temptation Collection
EP : 3 LUCARIS Bangkok Bliss Collection
---