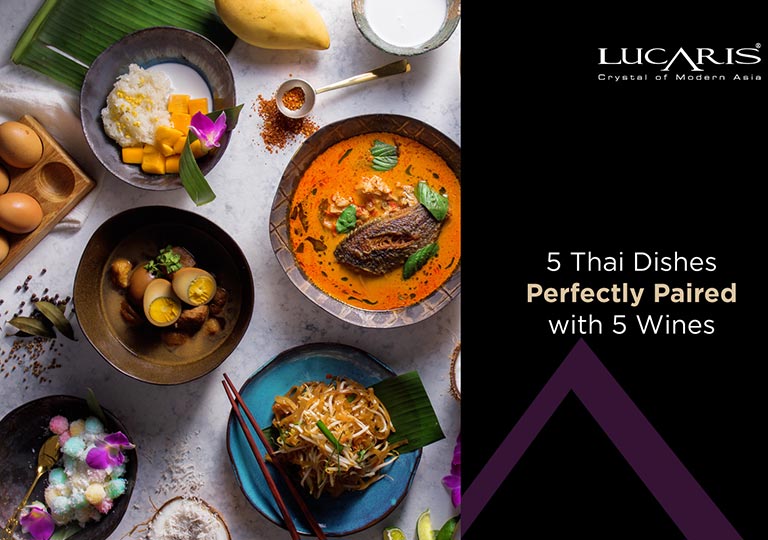 Pairing sessions are back! On our previous blogs, we've covered pairing wine with Desi Indian food and pairing wine with various desserts. Today, we're pleasuring our taste buds with the complex blend of spicy, sweet, sour, and salty flavours that compose everyone's forever favourite Thai food. Not as heavily spiced as Indian food and not quite as herbal and aromatic as Vietnamese, pairing wine with Thai food seems like an impossibly difficult task with its variety of flavorful tastes. How does one go about balancing the delicate flavors of wine with the complex flavours of Thai cuisine? To save you some time, we have created a list of 5 Thai dishes with 5 wines.
Diverse tastes demand diverse wines, so we've paired some of our favourite Thai dishes with THE wine that perfectly balances each.
1. Tom Yum with Grenach Blanc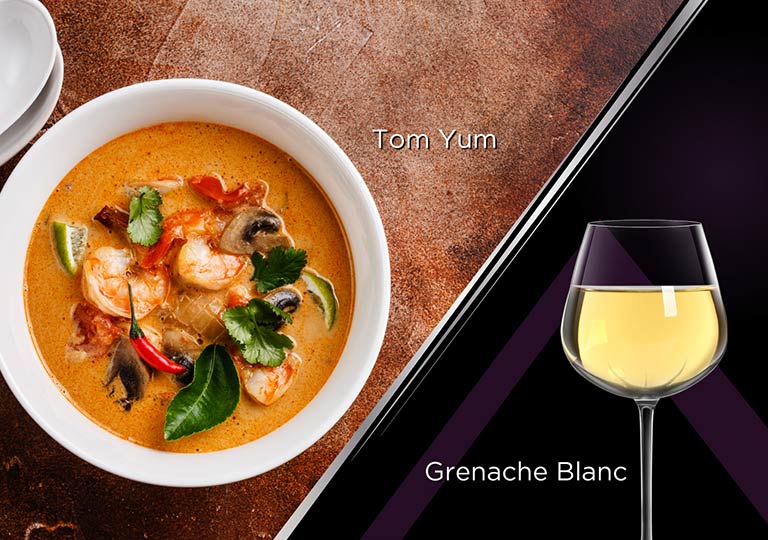 It's hard to pair wine with such a complex spicy dish but Grenach Blanc is a perfect match made in heaven. A full-bodied white wine with intense flavors meeting the spicy and sour Tom Yum, who would've thought these two would make a wonderful combination?
2. Pad Thai with Riesling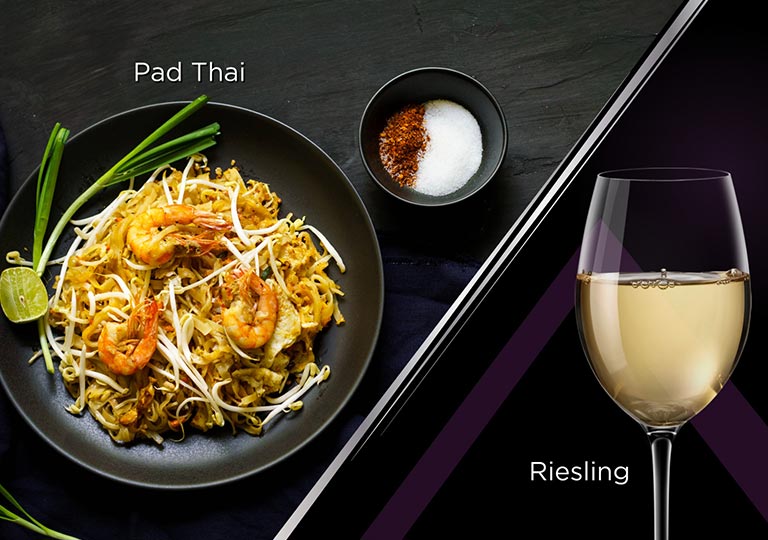 You can never go wrong pairing Riesling with a Thai dish, and Pad Thai is a classic favorite that matches perfectly with Riesling, especially a classic Halbtrocken German Riesling. As Pad Thai leans more towards a mild flavor, Riesling adds that last touch of aroma.
3. Massaman Curry with Carignan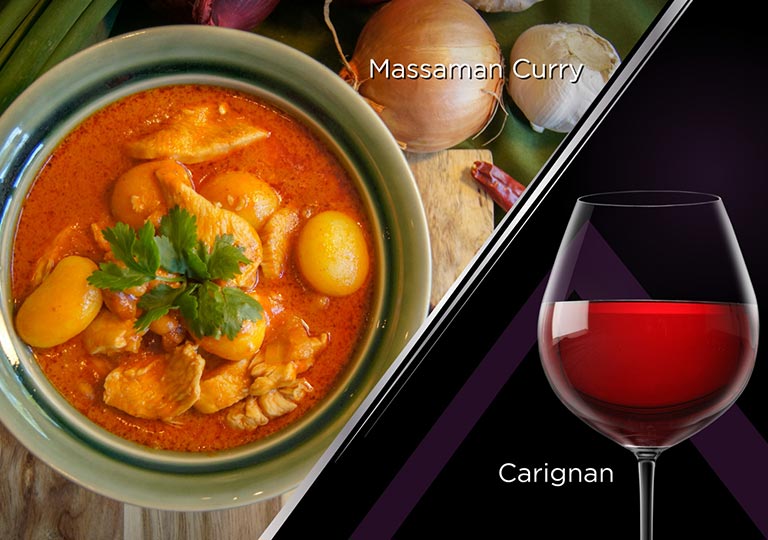 Different than all the other Thai curry featuring coconut milk, Massaman curry features ingredients like potatoes, cumin, and cinnamon. Since it is quite a heavy dish with a tinge of sweetness, Carignan freshens up your palate with a burst of fruit flavor and has a lighter bitterness compared to Cabernet.
4. Papaya Salad with Grüner Veltliner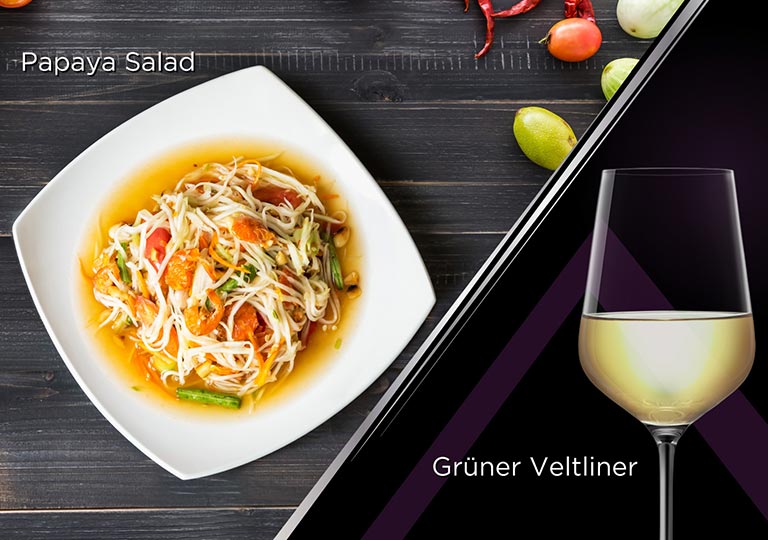 Though Riesling seems like another sensible option for papaya salad, Grüner's unripe fruit flavors actually brings a wow factor to the dish, combining sweet and sour, savory and fruity.
5. Mango Sticky Rice with Late Harvest Riesling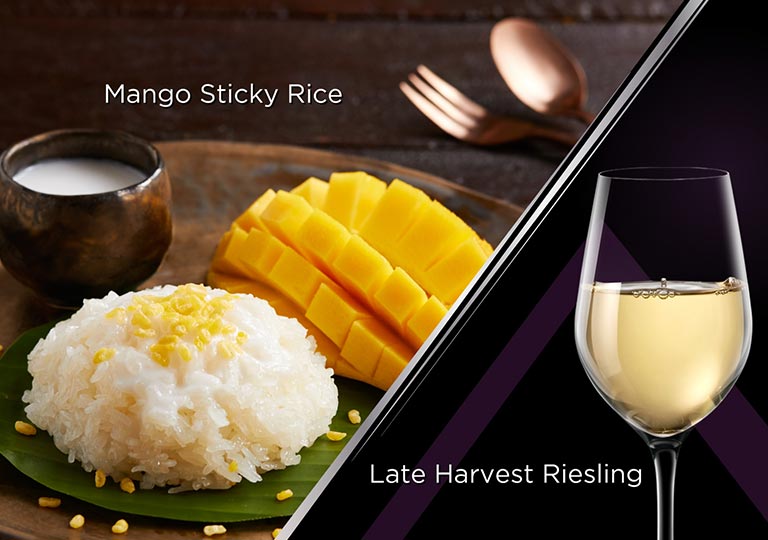 After all the savory, it's time for the popular mango sticky rice! No wine can be more fitting than a late harvest Riesling. Let its stimulating acidity and aromas blend in with the creaminess of the sticky rice.
The most fun part about pairing wine with Thai food is the total freedom revolving around it all. Since locals don't really pair wine with their dishes and wine drinking is not a huge tradition in Thailand (although it should be), there are no dos and don'ts in pairing your favorite wine with your favorite Thai dish. However, Riesling seems to be the most universal wine to be paired with Thai food according to all the wine experts out there so if you're running out of ideas, opt for a bottle of plain old Riesling!
Enjoy your wining and Thai dining with LUCARIS's crystal wine glassware, equipped with Aerlumer technology, helping wine oxygenize better, and eliciting its authentic bouquet. Let LUCARIS elevate your wine-drinking experience today.