Wine Basic : Top 5 Wine Regions
If you ever wanted to be a wine expert, you need to know and master the basics first. Knowing grape varieties and wine regions are the most basic that all wine beginners and wine lovers should know. This is because both will help you be able to analyze characteristics of wines and labels on wine bottles.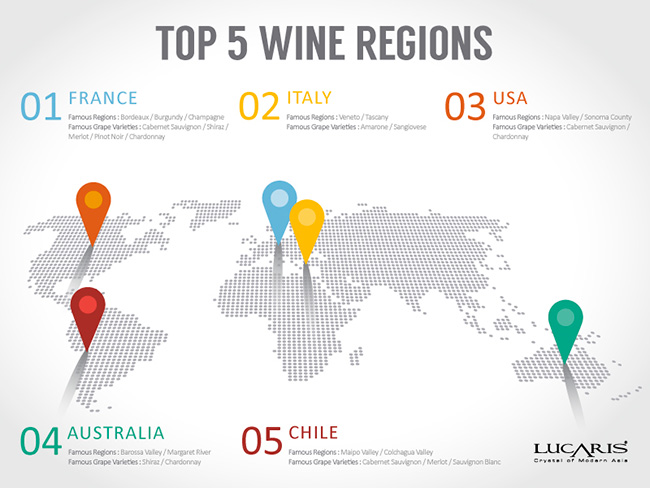 Believe it or not, there are many wineries all around the world. However, more than 80% of them are exported from France, Italy, Spain, America, Argentina, Australia, Germany, South Africa, Chile, and Portugal. We are excited to present and guide you to the top 5 wine regions that you should know to even further your wine knowledge!
---
1. France
One thing that many of wine experts would think of when it comes to a country that has the most famous wineries and their techniques/styles become very well-known and use all over the world. That's right, It's France!
France is one of the country that produces wine the most on earth. The amount that is yearly made by this country is approximately 5000-6000 million liter or around 7-8 billion bottles. Not to mention that classic brands like Cabernet Sauvignon, Shira, Merlot, Pinot Noir, and Chardonnay are originated in France. Also, very famous wineries such as Bordeaux, Burgundy, and Champagne are reside in France as well.
1.1 Bordeaux
You can call Bordeaux as the biggest winery in France. This region produces almost 700 million bottles per year which 98% of products are red wine. The famous wine from this region uses varieties of grapes such as Cabernet Franc, Merlot, and Cabernet Sauvignon blend together to create the Bordeaux blend wine and dessert white wine is a second famous from Sauternes.

1.2 Burgundy
Burgundy is a region that has very high quality of winemaking. Many of its vineyard are ranked in Grand Cru class. Famous wines from Burgundy are usually dry red wine and white wine which make from pinot noir and chablis respectively.

1.3 Champagne
Champagne locates in the northeastern part of France and very famous in sparkling wine production which later became widely known all around the world. Interestingly, sparkling wine sometimes call champange only if it is produced in Champange.
---
2. Italy
Italy is another country that produces old world wine mainly. Italy wine production rate is around 4,500-5,000 million liter per year and considered to be one of the biggest wine exporters in the world. Not only that, Italy acutally has a very high rate of wine consumption as well, approximately 42 liters per person! Thus, 1 million acre of vineyard including Veneto and Tuscany locate all over Italy are dedicate to maintain all of italian wine lovers.

2.1 Veneto
One-third of wine production in Italy comes from Veneto. This region has advantages of coldness from the Alps and warmness from Adriatic sea and therefore able do various types of viniculture. Featured wines from Veneto include white wine Soave and red wine Amarone.

2.2 Tuscany
Tuscany locates in the central part of Italy that closes to the Tyrrhenian sea. Many of well-known wineries such as Chianti, Brunello di Montalcino, and Vino Nobile di Montepulciano are also in Tuscany. The most famous grape in Tuscany is Sangiovese and signature wine is sweet wine Vin Santo.
---
3. United States of America
The United States of America is ranked below France, Italy, and Spain in wine production. Unexpectedly, 90% USA's wine comes from California state that has famous wineries such as Napa Valley and Sonoma county where Cabernet Sauvignon and Chardonnay are the most pick grape varieties.

3.1 Napa Valley
Wines from Napa Valley are famous from their premium quality. This due to weather conditions, geology, and topography which are similar to those in the Mediterranean, enable Napa valley to grow varieties of grapes.

3.2 Sonoma County
Sonoma County is another province that vinicultures the most in the United States of America. Mountain range climate conditions and fertile soil in Sonoma county are perfect for grape variesties such as Cabernet Sauvigno, Chardonnay, Pinot Noir, Sauvignon Blanc, and Zinfandel.
---
4. Australia
In Australia, wine isn't just a beverage but it is actually a massive industry that stimulates the country's economy, employment rate, and tourism. Australia produces approximately 750 million liter per year. Unfortunately, only 40% of the population consumes wines. The main grape varieties of Australia are Shiraz and Chardonnay.

4.1 Barossa Valley
For anyone that is a fan of Shiraz grape must at once try Shiraz red wine from Barossa valley in his or her life time. Shiraz red wine comes with full-bodied taste, slightly spicy, and chocalate fragrance. Because of it, Shiraz red wine is now internationally known and Barossa valley is considered to the best winery in Australia.

4.2 Margaret River
If you are looking for a premium mine. You need to look for wine from Margaret river because more than 20% of premium wine from Australia is produced from this area. Featured wine from Margarent river is Bordeaux red wine from Cabernet Sauvignon grape.
---
5. Chile
The last country that is considered to be the biggest wine exporter is Chile. The charm of Chilean wines come from the perfect mix of France and Pacific coast weather conditions.The must try wines when you are in Chile are Cabernet Sauvignon red wine, Merlot red wine, and especially Carmenere red wine from Carmenere grape that is originated in Bordeaux, France but rarely can be found nowadays.

5.1 Maipo Valley
Maipo Valley locates in the southern part of Chile's capital city. Cabernet Sauvignon red wine is extremely famous and has a world class quality. Maipo valley is divided into 3 parts: Central Maipo, Pacific Maipo, Alto Maipo; and because of its fresh air and dry condition, this will help bring out the freshness of wine.

5.2 Colchagua Valley
Colchagua valley has similar climate as the Mediterranean and is slightly colder than the Maipo valley. Featured grape varieties include Cabernet Sauvignon, Merlot, Chardonnay, and Sauvignon Blanc. In addition, Colchagua valley is considered to be the "Napa valley" of Chile.
---
After we have learned all about the "Top 5 Wine Regions" that many of wine beginners must know. You should be able to roughly classify styles and characteristics of wines that are in your interests. Nonetheless, this is just a small essence of wine basics. If you would like to expand your horizon in the wine world, there are more articles written by us such as Wine Basic : Grape Varieties and Importance of Choosng a Wine Glass for a Specific Wine.
Wine Basic : Top 5 Wine Regions
如果你曾经想做一个葡萄酒专家,你需要了解并精通基础知识。掌握葡萄品种和葡萄酒产地是所有葡萄酒初学者和爱好者应该知道的最基础的东西。这是因为这两者可以帮助你分析葡萄酒的特征和酒瓶上的商标。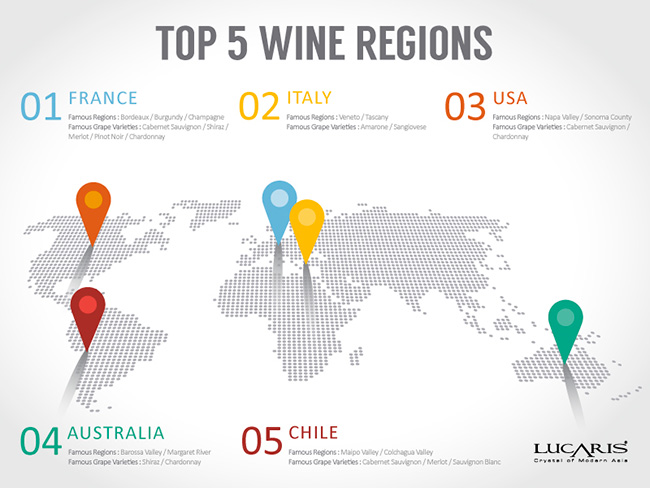 无论您信不信,世界范围内有很多酒庄。然而,超过80%是来自于法国,意大利,西班牙,美国,阿根廷,澳大利亚,德国,南非,智利和葡萄牙。我们很乐意为您介绍前5名的葡萄酒产地,这些是您必须所知道的葡萄酒知识。
---
1. 法国
当你要说出一个国家,它拥有的著名酒庄最多,而且它们的技术/风格被全世界熟知并使用,许多葡萄酒专家都会想到它,没错,就是法国!
法国是地球上产葡萄酒最多的国家之一。这个国家每年的产量是大约50到60亿升或大约70到80亿瓶。更不必说一些经典的品牌,比如赤霞珠,希拉,梅洛,黑皮诺和霞多丽都是产自法国。另外,一些非常有名的酒庄例如,波尔多,勃艮第和香槟也属于法国。
1.1 波尔多
你可以将波尔多称为法国最大的酒庄。这个地区每年的产量有7亿瓶,其中98%都是红葡萄酒。来自于这个产地的有名的葡萄酒使用很多种葡萄,例如品丽珠,梅洛和赤霞珠混合在一起创造出的波尔多混合葡萄酒,而且苏特恩白葡萄酒是第二个著名的甜葡萄酒。

1.2 勃艮第
勃艮第是一个酿酒质量非常高的地区。这里许多的葡萄园都是特级葡萄园。来自于勃艮第的名酒通常是干红以及由黑皮诺和夏布利分别酿制的白葡萄酒。

1.3 香槟
香槟位于法国的东南部,以酿制起泡酒闻名,随后享誉全世界。有趣的是,起泡酒有时被称为香槟仅仅是因为其产地是香槟。
---
2. 意大利
意大利是世界上另一个产葡萄酒的主要国家。意大利葡萄酒的产率大概是45到50亿升每年,而且被认为是世界上最大的葡萄酒出口商。不仅如此,意大利实际上也有着非常高的葡萄酒消费率,大约每人42升!因此,包括威尼托和托斯卡纳的全意大利境内的100万英亩的葡萄园致力于供养意大利所有的葡萄酒爱好者。

2.1 威尼托
意大利三分之一的葡萄酒都产自威尼托。这个地区有着来自于阿尔卑斯山脉的凉爽和亚德里亚海的温暖,因此能够做各种的葡萄酒的酿造。来自于威尼托的特色酒包括白葡萄酒苏瓦韦以及红葡萄酒阿玛瑞恩。

2.2 托斯卡纳
托斯卡纳位于意大利中部,靠近伊特鲁利亚海。许多知名的酒庄,比如基安蒂,布鲁奈罗·蒙达奇诺,而且蒙特普齐亚诺贵族红也来自于托斯卡纳。托斯卡纳最著名的葡萄当属桑娇维塞,而招牌酒有甜葡萄酒Vin Santo(圣酒)
---
3. 美国
美国的葡萄酒产量排在法国,意大利,西班牙之后。出乎意料的是,美国的葡萄酒有90%都来自于加利福尼亚州,那里有著名的酒庄,比如纳帕谷和索诺马县。赤霞珠和霞多丽是最常摘的葡萄品种。

3.1 纳帕谷
来自于纳帕谷的葡萄酒以其优质的品质而闻名。这是由于天气条件,地理和地质都很像地中海,这使得纳帕谷能生长很多品种的葡萄。

3.2 索诺马县
索诺马县是美国另一个葡萄酒酿造技术最多的省。山脉的气候条件和索诺马县肥沃的土地对于葡萄的生长非常完美,比如赤霞珠,霞多丽,黑皮诺,长相思和仙粉黛。
---
4. 澳大利亚
在澳大利亚,葡萄酒不仅是一种饮品,而是一个刺激国家经济,就业率和旅游业的巨大工业。澳大利亚每年的产量大约有7.5亿升。不幸的是,只有40%的人口消费葡萄酒。澳大利亚主要的葡萄品种有设拉子和霞多丽。

4.1 巴罗莎山谷
对于任何一个设拉子葡萄的粉丝,在他有生之年一定要立刻尝试来自于巴罗莎山谷的设拉子红葡萄酒。设拉子红葡萄酒带有浓郁的味道,微辣,有巧克力味。因为此原因,设拉子红葡萄酒现在名满世界,而且巴罗莎山谷被认为是澳大利亚最好的酒庄。

4.2 玛格丽特河
如果您在找优质的葡萄酒。你需要从玛格丽特河寻找,因为澳大利亚超过20%的优质葡萄酒都产自这个地区。来自于玛格丽特河地区的特色酒有用赤霞珠葡萄酿制的波尔多红葡萄酒。
---
5. 智利
最后一个被认为是最大的葡萄酒出口商的国家是智利。智利葡萄酒的魅力来自于法国和太平洋海岸天气条件的完美混合。当你在智利,必须要尝试的葡萄酒有赤霞珠红葡萄酒,梅洛红葡萄酒,尤其是来用佳美娜葡萄酿制的佳美娜红葡萄酒,它的原产地是法国波尔多,但是现在几乎找不到了。

5.1 迈坡谷
迈坡谷位于智利首都的南部。赤霞珠红葡萄酒极其出名而且拥有世界级的品质。迈坡谷分为3个部分:中部迈坡,太平洋迈坡,阿特迈坡,其新鲜的空气和干燥的条件会帮助葡萄酒产生新鲜度。

5.2 科尔查瓜山谷
科尔查瓜山谷和地中海有着相似的气候,而且比迈坡谷地区稍冷。特性的葡萄品种包括,赤霞珠,梅洛,霞多丽和长相思。此外,科尔查瓜山谷被认为是智利的"纳帕谷"
---
在我们学习了"前5名的葡萄酒产地"后,许多葡萄酒的初学者必须要知道。你应该能够大致的按照你的兴趣为葡萄酒的种类和风格分类。尽管如此,这只是葡萄酒基础的一个小小的精华。如果你想在葡萄酒世界里扩展你的眼界,这里有更多我们写的文章,比如葡萄酒基础:葡萄种类和为特定的葡萄酒选择一个酒杯的重要性