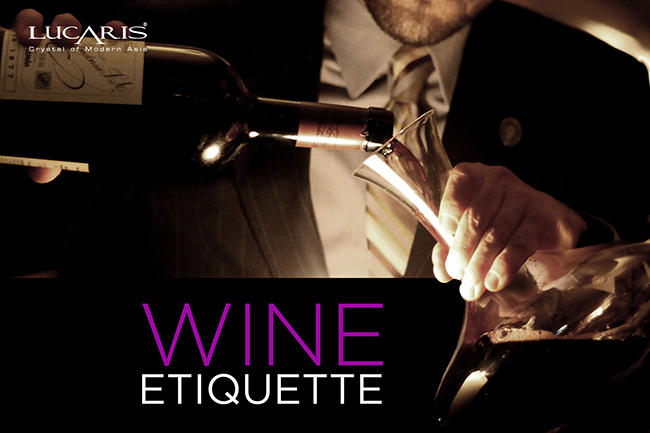 Nowadays, business dining in more casual, friendly ambience is preferably and mostly arranged in a fine dining restaurant to impress a business partner. But not only a place choice, your professional personality, dining etiquette and wine basic knowledge are also necessity to make a perfect occasion. And here is a little tip to order wine like a Pro!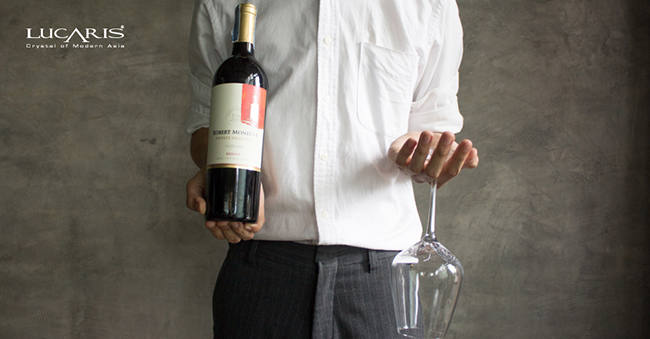 Get to know a sommelier
If you don't feel confident about ordering wine, just look for a sommelier! A sommelier is a well-trained and knowledgeable wine professional specializing in all aspects of wine services as well as wine and food pairing. The sommelier is mostly the one who creates a wine list in restaurants and in charge of all the wine services.
Before asking the sommelier, first ask yourself the following questions. Which type of wine do you like? What kind of cuisine will you order? Would you like to try something new? How much are you willing to pay?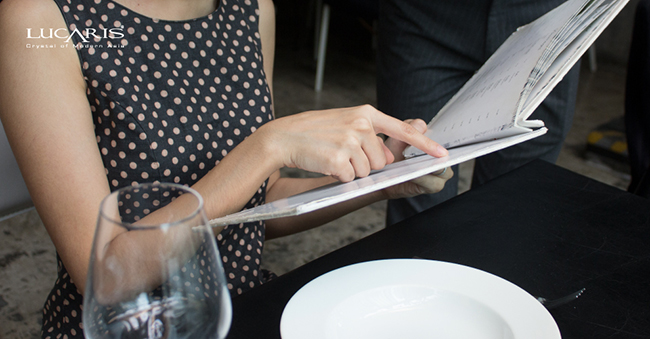 How to ask the sommelier
When you have a clear answer of questions above, it's now time to know a little tip to ask your sommelier.
1. Choose the wine you prefer.
2. Tell the sommelier about your wine choice and ask for food to pair with or directly ask the recommended wine.
3. Secretly tell the sommelier about your preferred price by point it on the wine list. In this way, you don't have to feel shy to show your real budget to your friends at the dining table.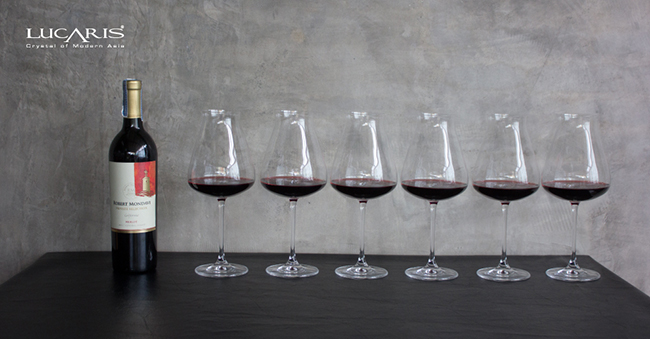 How to calculate the appropriate wine volume
One thing you should know about ordering wine is the bottle size. Normally, a bottle of wine contains 750ml and a glass of wine could serve around 125 – 150 ml. Therefore, one bottle of wine can fill up 5-6 glasses.
Not only order a bottle of wine, you can also order wine by the glass. However, you should ask the sommelier if the bottle has been opened more than a day. If it has, maybe you should order something else.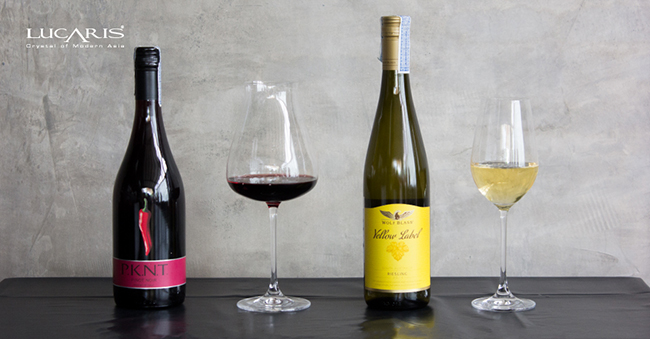 How to choose the wine
For a wine beginner who didn't have time to study about grape varieties, wine regions, or characteristics of wine before arriving the restaurant, ordering form the "Wine List" might be like a treasure hunter for you. Here we have some tips for you! Just remember one of these grape varieties because it can be paired with many dishes.
1. White Wine from Riesling
Riesling is a grape variety which has a wide palette from dry to super sweet. However, we recommend the dry Riesling from Alsace, France or Germany as its balance between sweetness and acidity is mostly suitable for many dishes especially the spicy taste from Thai cuisine. To enhance the refreshing characteristics of Riesling wine, we serve it in a small, tall crystal wine glass like LUCARIS Desire Crisp White or any Riesling wine glass from LUCARIS Lifestyle Collection.
2. Red Wine from Pinot Noir
If you are looking for the universal red wine to pair with your dinner, Pinot Noir might be the answer you are looking for. Pinot Noir is the light-bodied red wine which can be perfectly paired with both meat and seafood dishes. We recommend Pinot Noir from Burgundy, California, Washington DC and Oregon to serve with LUCARIS Desire Elegant Red.The glass will enhance the wine aroma and its characteristics stronger.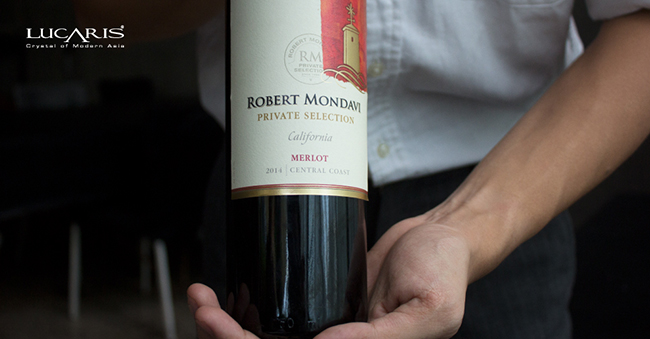 How to simply exam the wine
Sommelier and you have to exam the wine together. Before serving wine, the sommelier will show you the wine label to confirm the wine type, vintage, and grape variety that it is the right bottle you are looking for. The sommelier then will serve just a little amount of wine for your tasting if there is anything wrong with the wine. If there is, you can ask to change the bottle.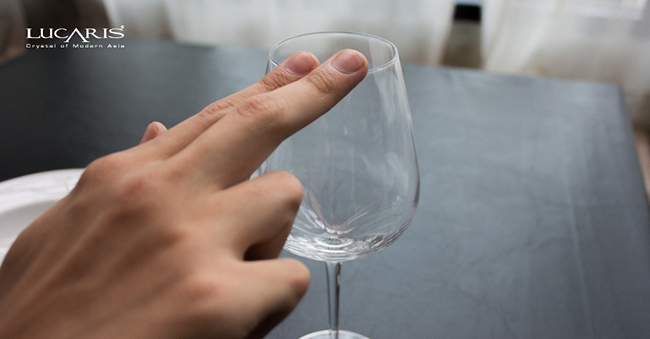 How to say 'no' to wine with good manner
If you are at the dining table and do not want to drink wine, place the tip of your finger gently on top of the wine glass rim, it is a way to communicate to the waiter that "I do not plan to drink today"
These are tips that can make you more confident in ordering wine like a pro. If you are looking for a great wine place for dinner, you can just review our Sip with Style. We've been to Thailand, Singapore, Malaysia, Indonesia and Hong Kong to discover the best fine wine and dining places for you.
A good crystal wine glass like LUCARIS can best complement your favorite wine. In Thailand, shop online now at Wine-Now, Central, or Lazada,. For international areas, please check out contact meor B2B Service page at LUCARIS official web site.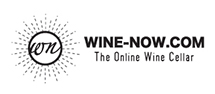 www.wine-now.com
The biggest online wine store in Thailand includes free delivery.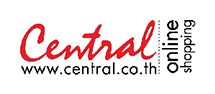 www.lazada.co.th
One of the biggest department store in Thailand and online is now available.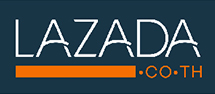 www.central.co.th
The most famous online store.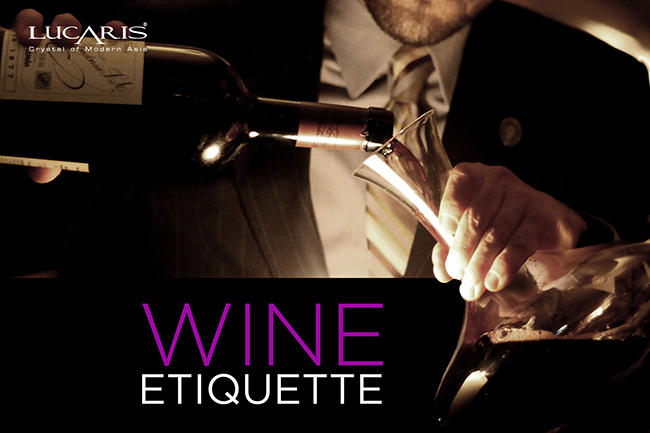 现如今,商务餐饮更提倡随意,友好的氛围,而且大多都安排在一个精美的餐厅来给生意伙伴留下印象。但是不仅仅是场所的选择,你的职业素养,个性,餐饮礼仪和葡萄酒的基础知识对制造一个完美场合都是必不可少的。这是一个小贴士来帮助你像一个专业人士一样来点葡萄酒。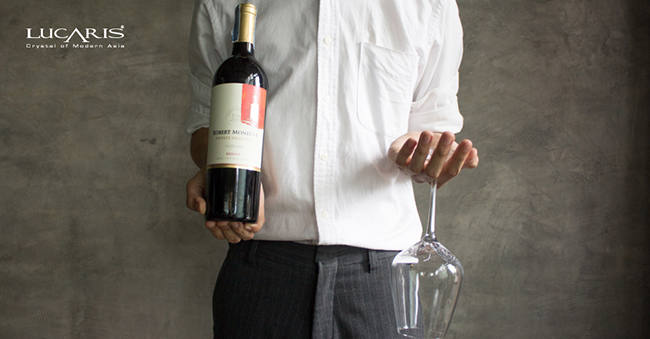 认识一个侍酒师
如果你对于点酒没有自信,那就找一个侍酒师。侍酒师都是受过专业训练,而且在葡萄酒服务的各个方面都非常的专业,对于配餐也是一样。侍酒师大多是餐馆中创立酒单并且负责所有葡萄酒服务的人。
在问侍酒师之前,先问自己以下问题。你喜欢哪种类型的葡萄酒?你想要点哪种美食?你想尝试一些新的东西吗?你打算付多钱?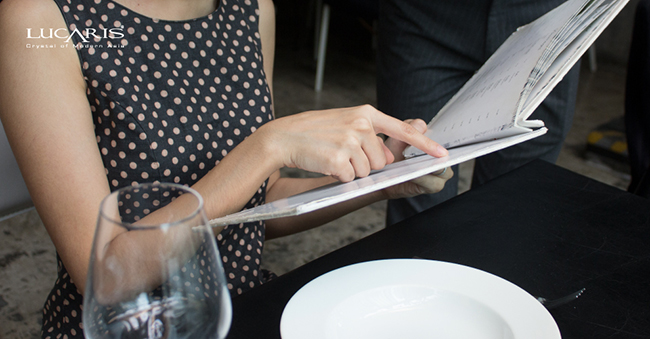 如何问侍酒师
1. 选择你更喜欢的葡萄酒
2.告诉侍酒师你选择的葡萄酒然后询问搭配的食物或直接问推荐的葡萄酒
3.通过在酒单上指出的方式,偷偷的告诉侍酒师你想要的价格。以这种方式,你不会为在餐桌上向你的朋友展示你的预算而害羞。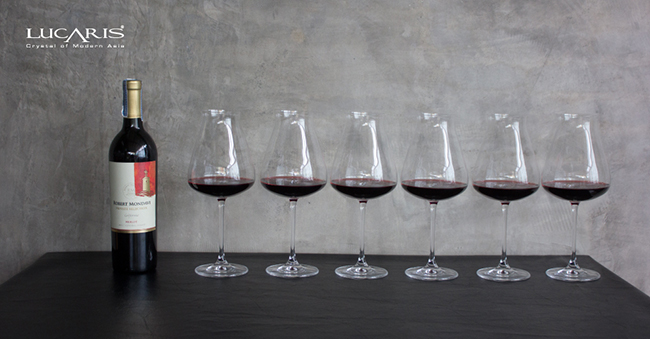 如何计算合适的葡萄酒量
关于点酒,有一件事你需要知道,那就是瓶子的尺寸。通常,一瓶酒包含750ml,一杯酒能够容纳125-150ml。因此,一瓶酒能倒满5-6杯。
不是只可以点一瓶酒,你也可以按杯点,然而,你应该问侍酒师这瓶酒开的时间是否超过一天了,如果是的话,也许你需要点些别的了。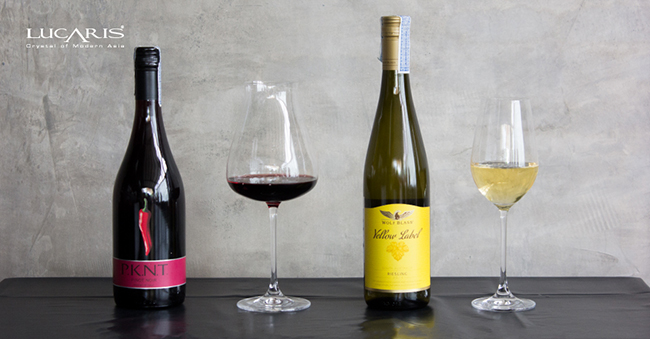 如何选择葡萄酒
对于一个在到达餐馆前没有时间学习葡萄品种,葡萄酒产地,或葡萄酒风格的葡萄酒初学者,下订单对于你可能像寻宝一样,这里我们有一些小技巧给你!就记住一种葡萄,因为它可以搭配很多菜。
1. 由雷司令酿制的白葡萄酒
雷司令是一个有着从干到超级甜味的葡萄品种。然而,我们推荐来自于法国阿尔萨斯或德国的干雷司令,因为它和甜度有一个很好的平衡,而且酸度搭配很多菜都很合适,尤其是有一点香料味的泰国菜。为了加强雷司令酒的清爽特性,我们用一款小的,高的水晶玻璃杯来为其服务,像LUCARIS挚选系列的 Crisp White或任意一款LUCARIS时尚系列的Riesling(雷司令)酒杯
2. 由黑皮诺酿制的红葡萄酒
如果你正在寻找通用的红葡萄酒来搭配你的正餐,黑皮诺可能就是你在找寻的答案。黑皮诺是清爽型红葡萄酒,可以搭配肉和海鲜。我们推荐来自于勃艮第,加利福尼亚,华盛顿地区和俄勒冈的黑皮诺,搭配的酒杯选择LUCARIS挚选系列的Elegant Red.这款酒杯会使酒的香气和风格更强。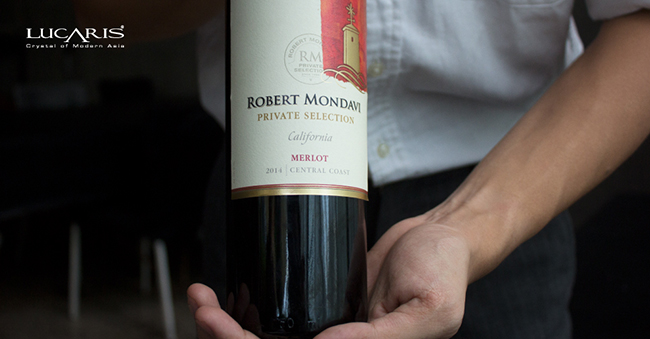 如何简单的检查葡萄酒
侍酒师和你必须一起检查葡萄酒。在开酒前,侍酒师会像你展示商标来确认葡萄酒的种类,酿造期,和葡萄种类,以确定这是你选择的酒。侍酒师然后会在你品尝时服务一会儿,如果酒有任何的问题,你可以让它更换一瓶。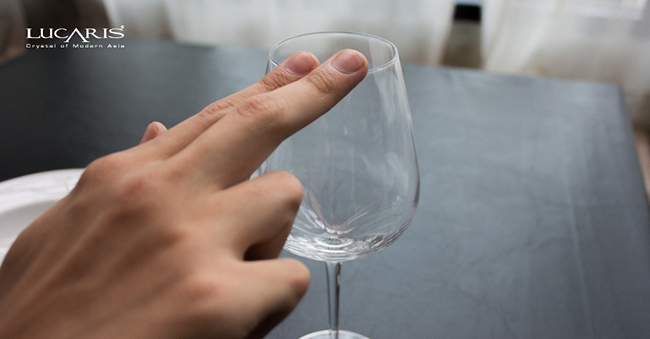 如何简单的检查葡萄酒
如果在餐桌上,你不想喝葡萄酒,将你的手指尖绅士的放在杯子的上边缘,这是一种和服务生交流的方式,表示"我今天计划不喝酒"
这些就是能够使你在点酒时也能像专业人士的一些小窍门。如果你想找到一个很棒的用餐地点,你可以回顾我们的Sip with Style。我们已经去过泰国,新加坡,马来西亚,印度尼西亚和香港来为你探索最佳的饮酒和用餐地点。